WALLTITE is applied directly to breathable roof membranes between timber rafters in tiled or slated pitched roofs. If a non-breathable membrane is present it is a building regulation requirement to provide a 50mm ventilation gap between any insulation layer and the underside of the non-breathable bitumen or polypropylene type felt. Advanced Insulation achieve this by installing a vapour permeable (breathable) rafter slide to the felt prior to the installation of WALLTITE.
Application Procedure
A site survey must be performed by Advanced Insulation in order to establish product suitability and ventilation requirements.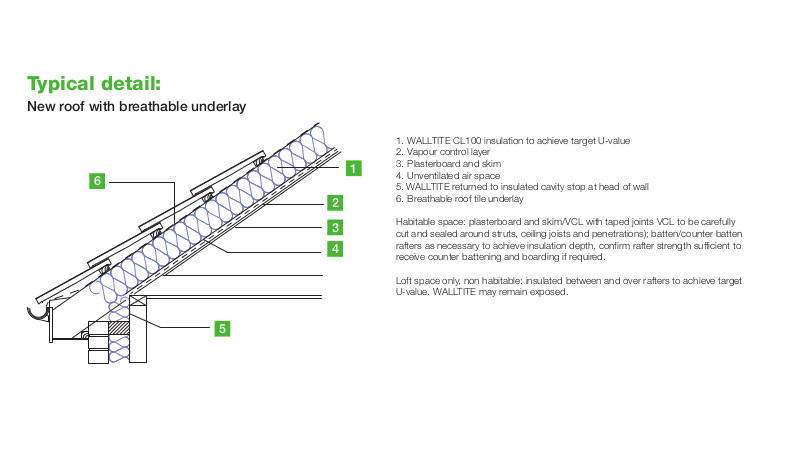 WALLTITE is applied between rafters to either a breathable roof membrane or breather card as required. In the case of the latter the breather card serves to maintain a 50mm void between the finished insulation layer and the underside of the roofing felt. This is a regulatory (TGD PART F) requirement and is enforced to prevent roof space condensation.It is important that this void remains ventilated. The Advanced Insulation spray contractor begins at the eaves and works towards the ridge area in a "flash coat" of less than 10mm in thickness. Subsequent thicker coats are applied to achieve the desired thickness.
WALLTITE is BBA and NSAI Agrément certified for this application.